"B&R" "Internet+" International Education of Chinese Language Conference in Thailand
Tang : 2016-12-21
On the afternoon of Dec.18, 2016, "B&R" "Internet+" International Education of Chinese Language Conference was successfully held in Thailand. There were over 180 guests attending to the conference such as representatives from the Chinese Embassy in Thailand, leaders from Chinese and Thai prestigious universities, vice president of Thai-Chinese Chamber of Commerce, the president of Chinese Teachers' Association of Thailand, the president of Association of Young entrepreneurs in Thailand, and the chairman of the Beijing Chamber of Commerce in Thailand. The conference was broadcast globally by means of Tang's Smart Teaching & Learning System and more than 3,600 internet users watched the whole process on line.
"B&R" "Internet+" International Education of Chinese Language Conference was jointly held by China's most famous institutes-Peking University, Beijing Normal University, Huaqiao University, and Tang with support from the Thai Deputy Monk, Master Phradhamphawanawikrom (as the chairman of Long Cai Foundation). The conference assembled elites from education and business industry in both China and Thailand, aiming to bring much more Chinese great education resources as well as skills to Thailand under the new age of technology. It is not only beneficial for Thai leaners to own a convenient study environment, but also contributive for China-Thailand friendship and cultural communication.
All the guests discussed the future trend of "Internet+ International Education of Chinese Language" and launched a new mode of university-enterprise cooperation project-"Internet+ Academic Education" under the background of rapid technological development nowadays. This conference was also treated as a significant launching ceremony to initiate a new mode of educational collaboration in a "B&R" related country.
Since Tang's establishment, the company had been endeavored to promote the international education of Chinese language through Internet technology during past 10 years in order to help people all over the world learn Chinese language and culture. The cooperation between universities and Tang opened up the combination of Chinese education resources and new technology for Chinese language learning.
As one of the conference sponsors, the president of Tang Ms. Liu Fei initially gave a speech which expressed her appreciation for all the guests' attending and appealed to all attendees together to integrate resources and energy to help Thai people effectively learn Chinese language and enhance their understanding of Chinese culture; besides, Ms. Liu stated that all the Tang staff would keep devoting themselves to developing an international platform with the concept of "co-construction, sharing, and win-win cooperation" and to propagating Thai language as well as culture worldwide.
Mr. Guan Mu, who was the former ambassador of Chinese Embassy in Thailand and present special adviser of Council for Promoting South-South Cooperation, read out a congratulatory letter on behalf of Mr. Lv Xinhua who was the former vice minister of Chinese Foreign Ministry and present president of Council for Promoting South-South Cooperation. Mr. Guan Mu placed his great expectation on the innovative model of "B&R" "Internet+" International Education of Chinese Language launched in Thailand and expressed his willingness to support such new model, making a contribution to China-Thai friendly relationship.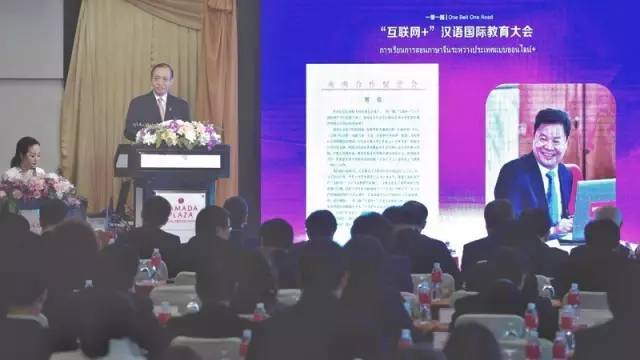 The Cultural Officer of Chinese Embassy in Thailand-Mr. Chen Jiang indicated that the method of learning Chinese language via Internet proposed by Tang would attract an increasing number of Thai people to study Chinese and be beneficial for them in the future.
The Principal of Huaqiao University-Mr. Jia Yimin sent his congratulatory video for the conference. The Vice Principal of Huaqiao University-Mr. Xu Xipeng and the secretory of Huaqiao University's Chinese Language College-Mr. Ji Xiusheng respectively introduced the new cooperation model between Huaqiao University and Tang in terms of the innovative Internet platform for International Master Program from different perspectives and sent out admission brochures about the Master Program of Chinese Education at the conference; and then announced that Tang's office in Thailand was authorized to be the service provider for student recruitment and platform technology.
The Dean-Mr. Zhao Yang and Deputy Dean-Mr. Li Jianxin both from Peking University's Foreign Language Education College introduced their new mode of "Online & Offline" Chinese International Education Program. They also explained that the program would be operated with the help of the Tang's educational cloud platform and coordination center to ensure its technical support and running space. Mr. Zhao and Mr. Li also claimed that Peking University would be along with other universities to complete curriculum construction, resource development, and course discussion with Tang's technical support, providing services worldwide for all the Chinese language learners.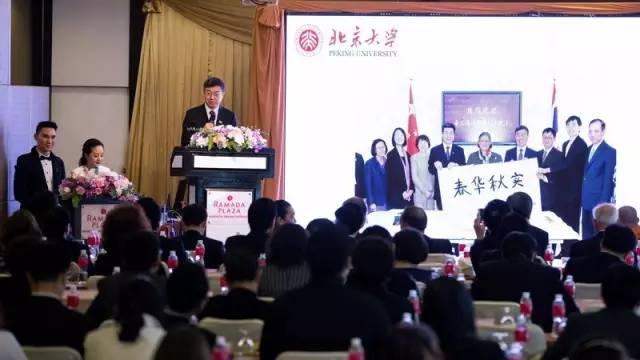 The Dean-Mr. Zhu Ruiping from Beijing Normal University's (BNU) Chinese Culture College denoted that the university would make full advantage of Tang's modern technology and platform to collaborate with Thai universities by founding an "Alliance of Chinese Normal Colleges" to develop local high-quality faculty team for Chinese education; meanwhile, to provide local Chinese language teachers' training for BNU distance degree and non-degree education.
At the conference, Mr. Xu Xipeng, Mr. Zhao Yang, and Mr. Zhu Ruiping respectively authorized brand medal to the president of Tang-Ms. Liu Fei and assigned Tang's office in Thai as a Chinese "Internet+" learning base offering technical support for the distance degree and non-degree education; meanwhile, providing localized platform for the on-the-job young entrepreneurs or businessmen in Thailand to study graduate or doctor programs anytime anywhere.
Tang's CEO-Mr. Li Jinsong presented "Internet+" Academic Education related platform and resources to all the guests; and declared that Tang would provide Thai Chinese language learners with China's best education resources and technical services so as to promote the efficiency of Chinese learning. The new model of "Internet+" Academic Education proposed by Tang earned guests' wide acclaim at the conference.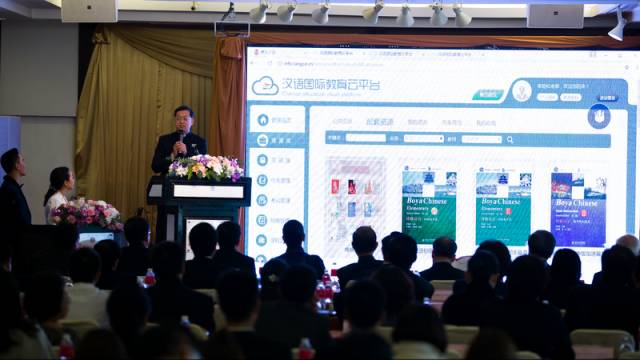 Mr. Liu Hancheng, the president of Thai Young Entrepreneur Council, indicated that "Internet+" Academic Education would become a prior choice for the local market considering its breakthrough of time and space limits. He also mentioned that this new model of education had been supported by many a university and he expected a reform of learning Chinese that Tang might bring to the Thai learners.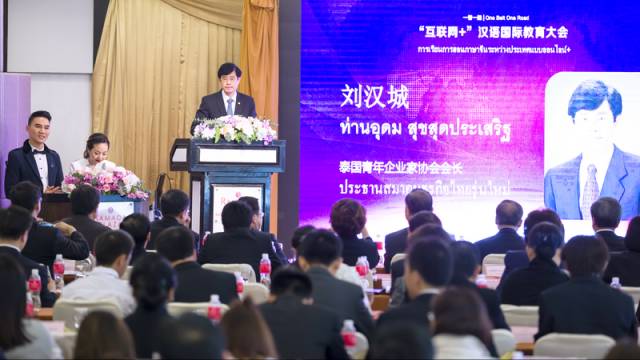 The Thai Deputy Monk, Master Phradhamphawanawikrom expressed his faith in "B&R'Internet+'Chinese International Education Conference" and appreciated Tang's effort and support on the development of Chinese language education in Thailand. He added that involving Internet to Chinese language learning would be a mainstream for language study and the application of Tang's international education cloud platform brought more opportunities to the development of Chinese education in Thailand.
The Master Phradhamphawanawikrom authorized brand medals to 3 prestigious universities and Tang with his blessing. He officially launched the program of "Internet+" Academic Education, allowing all the guests to witness the historic moment of putting "B&R" "Internet +" International Education for Chinese language into practice in Thailand.
After the conference, some guests exchanged their experience and intensively discussed plans for promoting student recruitment in Thailand, online resource construction, and training local teachers with "Internet+" mode.
The complete success of "B&R 'Internet+' Chinese International Education Conference" represented a new beginning of "Internet+" Chinese language education on the global market with the help of a great many of institutions. It was a reform of Chinese language education and would make profound influence in the method of Chinese teaching and learning in Thailand. From a long run, the Master Phradhamphawanawikrom had successfully introduced China's best education resources and most advanced educational technology to Thailand corresponding to the spirit of "B&R Initiative", making a great progress in China-Thai friendly relationship.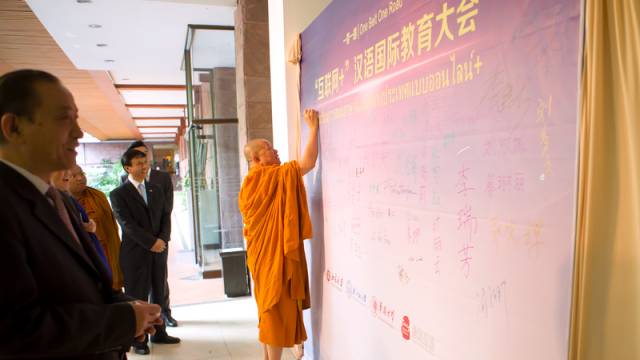 mainstream media overseas reported it all