A Complete Success of Seminar on "B&R" "Internet+" International Education
Tang : 2016-12-30
On Dec.27 and 28, 2016, an international education seminar on "'B&R' 'Internet+' International Education" was held in Tianjin University. It was initiated by Tianjin University, Xi'an Jiaotong University, Southeast University, Harbin Institute of Technology, and Tang. Highly supported by China Scholarship Council, Foreign Student Management Association, and CEAIE, the seminar appealed to over 100 educational institutions and 270 attendees.
The implementation of "B&R" Initiative and "Open Education Policy" brought plenty of new chances to the development of our international education. The seminar is aiming to seriously learn and implement foreign students' management in China, responding to our national policy and initiative". All attendees discussed the application of "Internet+" technology and products in order to attract more excellent students overseas and initiate a new mode of service for international students.
Ms. Li Tingting from China Scholarship Council (CSC), Ms. Chen Tengbo from the international office of Tianjin Municipal Commission of Education, and Mr. Chen Zhicheng, the president of Constitution of the Association of Graduate Universities and Colleges in China attended the meeting and made speeches.
The seminar especially invited Mr. Li Zhimin, the head of Science and Technology Development Center affiliated with the Ministry of Education, to make a report concerning "Information Technology Development and Education Reform" which emphasized that the progress of science and technology was the impetus for the development of human civilization and "Internet+" mode promoted our civilization to reach a new stage. The Internet connects information and commerce, now production and intelligence, bringing multiple changes in "teaching", "learning", and "evaluation"; thus, academic education experienced a radical transformation in "structure" and "form", while "Internet+" will content people with their happiness pursuit.
Mr. He Xiangmin, the vice president of National Foreign Students Management Association and the executive deputy director of Academic Committee, came to present a report about "New Requirements under the New Circumstance and the Development of Foreign Students Education in China". According to the spirit of the document issued by Chinese Ministry of Education, he expressed that how to develop a university to be a "double winner" in school and discipline construction by use of "Internet+" technology and complete a strategic change from quantity to quality, helping China soon become a nation with high-quality education for overseas students. Ms. Zu Yuanyuan, the executive deputy director of the Academic Communication and Research Department of CEAIE, delivered a speech about the quality authentication of international education for foreign students.
Ms. Zu Yuanyuan, the executive deputy director of the Academic Communication and Research Department of CEAIE, delivered a speech about the quality authentication of international education for foreign students.
Tang's CEO-Mr. Li Jinsong made a practice report about "B&R" "Internet+" international education by sharing his opinions on "How to bring in 'Internet+'? What aspects of it should be introduced? How to implement "B&R Initiative" based on 10 years' company operation experience. And then he took Tang's constructing of Chinese language education in Thailand and other countries as an example to briefly indicate the development pattern and project operation of "Internet+" international education in Peking University, Beijing Normal University, and Huaqiao University.
The Dean-Mr. Chen Zhihua and the Associate Dean-Mr. Du Xiuping of Tianjin University together shared their experience of realizing informatized and internationalized education with internet technology reflected in faculty training, discipline development, preparatory education, complete college support, and collaborative innovation through a report- "'Internet+' International Education".
Representatives in the seminar were separated into groups afterwards to have discussion about the topics below:
Topic 1:How to implement national "Open Education Policy", "B&R" Initiative, and "Internet+" strategy in universities and colleges? Topic 2: What methods and measures can be adopted to make a technical plan and approach for the establishment of an innovative platform? Topic 3: What do you expect and require for "Internet+" products and related services for the development of universities and colleges?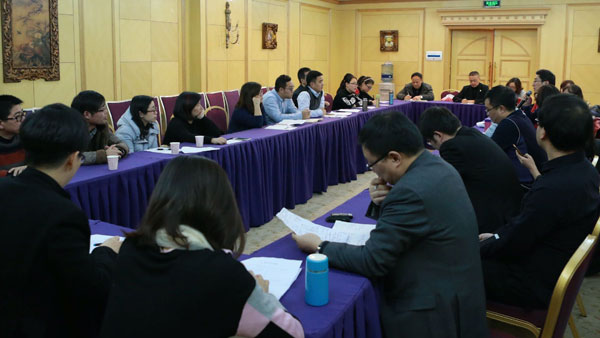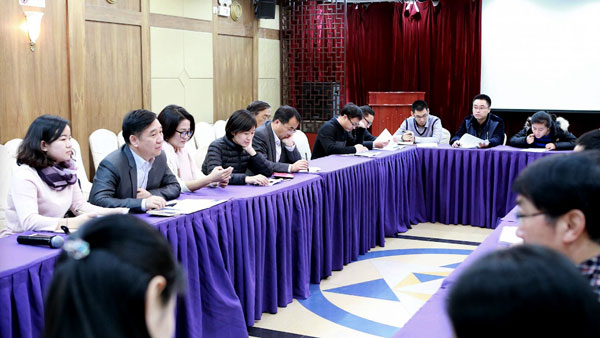 All groups discussed positively and excitedly
The first group expressed their interests in MOOC and expectation on the application of "Internet+". They wished Tang's teaching resources were available to be shared and to cope with the scarcity of teaching materials to some extent.
The second group referred to their confusion and desires to the internet technology and products. They also indicated their willingness to cooperate with Tang to work out an effective Internet-based education ("Internet+") model, solving practical teaching problems and promoting the new model at the same time in order to realize the development of multiple forms and subjects in international education.
The third group talked about their belief that "Internet+" mode would be a trend for Chinese Education in near future no matter we accepted it or not. Teacher shortage and dissatisfactory education quality required a reliable Internet platform to help solve and improve. Internet involved medical education still needed special skills and intelligent methods to support, but Tang had already brought many possibilities to the medical education, which would open up a new prospect for the foreign students' better development and collaborative innovation.
The fourth group mentioned that "Internet+" was able to solve some practical problems such as overseas students' recruitment; they looked forward to applying "Internet+" mode to make and share high-quality courses with joint efforts.
Mr. Weng Jingnong, the Dean of International Education College from Beijing University of Aeronautics and Astronautics, concluded that collaborating with competent, powerful, and persistent companies to make innovation was the key to help an educational institution be stronger and move further; Tang had developed a great product to realize cross-platform, resource sharing, and "instant push" functions. Mr. Weng could not wait to spread the good news and study this new product in order to put it into use as soon as possible.
Mr. Chen Zhihua, the Dean of Tianjin University, emphasized that we should make good use of the internet technology and grasp opportunities to set up first-class brand, design excellent courses, and build online faculty team.
A live French Class-"Christmas" given by Smart Classroom in Tianjin University was broadcast at the seminar. All attendees watched the whole process of giving class and also shared the related link on their WeChat apps. This demo class allowed people to know many functions of Tang's Smart Teaching & Learning System such as real-time recording, live broadcast, asynchronous sharing etc.; and to witness a breakthrough of space (classroom) and time limits made by the smart system. Many a representative from universities and colleges visited Smart Classroom in Tianjin University afterwards.
The busy but effective seminar was completed and the practice of "Internet+" international education just got started. Tang would keep exploring solutions for better applying Internet technology in the field of education, advancing the quality and efficiency of "Internet+" education, facilitating student recruitment, attracting more foreign students, improving credit system, and developing resource co-construction and sharing, which hopefully could assemble learners from different countries via Internet platform, establish a new model of international education, contribute to Chinese cultural communication, and increase friendly contacts with other countries.