"A Courtesy Visit" to United Chinese School Committees' Association of Malaysia
Tang : 2017-09-20
On the afternoon of September 11th, 2017, Madam Liu Fei (the President of Tang) along with Alan (Tang's Business Development Manager), Riko, and Lisa (the trainers of Tang), paid a courtesy visit to "United Chinese School Committees' Association of Malaysia" (Dong Zong), the headquarters for all independent high schools in Malaysia which includes 60 + 1 schools, at the Dong Zong Office in New Era College.
The visit was aiming to introduce Tang, which founded in Beijing China and established branch office in Malaysia, and to conduct a discussion meeting, seeking any cooperation opportunities with Dong Zong.
Madam Hong Woan Ying, the CEO of Dong Zong gave a warm welcome at first for Tang's visit and then guided all the people to the meeting room. Mr. Yong Chee Keong, the head of I.T, Unit; Mr. Chen Ching Fong, the director of student & teacher affairs Department; Mr. Choong Woei Chuan, the director of resource & information Department; Madam Lip Woon Chin, the director of publishing Department, and other supervisors in languages department also attended the meeting.
In the meeting, Madam Liu Fei briefly introduced about Tang's background and explains why she was so determined to come to Malaysia and launched the Internet+ Chinese Education. She expresses her willingness to assist and improve Mandarin education in Malaysia. Madam Liu Fei also talked about Tang's products such as Smart Teaching and Learning System and International Education Cloud Platform and potential benefits by using these products in teaching, learning and administration management.
Madam Liu Fei pointed out that Tang played a role as a platform for all the universities in China and offered further study programs to students in Malaysia, even scholarships given by some China's prestigious universities so as to attract more local students to have further study in China.
Madam Hong, the CEO of Dong Zong was very impressed with Tang's technology products. She mentioned that Dong Zong is also ego to establish an e-leaning environment, but man-power and massive investment were the barriers to the work. Thus, the organization would like to work with Tang to set up a platform center for all independent schools in Malaysia, gathering helpful education data and sharing teaching resources from different schools to improve the effectiveness of Malaysian education.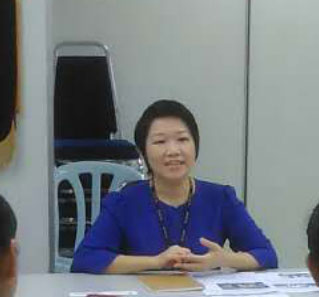 Madam Hong also showed her interests in how Tang presented themselves as an education service provider as well as an education portal. She considered to visit Tang's KL branch to learn more about the smart education system. This meet may lay the foundation for the cooperation between Dong Zong and Tang, and another meeting will be conducted later next month.
Before the meeting ended, a photo was taken with all the meeting attendees included.