"UNDERSTANDING CHINA"COURSE DEVELOPMENT AND TEACHING INNOVATION SEMINAR
Tang : 2018-08-21
"Understanding China" Course Development and Teaching Innovation Seminar was held on 17th August 2018 at Nanjing. The seminar was jointly organized by Tang Chinese Education & Technology Private Limited Corporation (hereafter mentioned as Tang Chinese) and Shanghai Foreign Language Education Press (hereafter mentioned as SFLEP). The organizer has made a particularly special invitation to Mr Yu Xiao Nan, the deputy director of Jiangsu Province International Student Management Society, Professor Zhao Yang, Dean of School of Chinese as a Second Language, Peking University, Professor Cheng Aimin, the chief editor of "Understanding China"cum Professor from Institute for International Students, Nanjing University, Mr Wu Di the deputy president of SFLEP and 180 distinguish guest from more than 100 higher education institutions across nation.
The seminar officiated by Professor Cheng Aimin at 9am. Professor Cheng delivered a very inspiring speech at the seminar, the seminar continues with speeches from other invited guest. Mr Yu Xiaonan express his gratitude and welcome to all distinguish guest, he stressed on the importance of the development of teaching Chinese as second language, how to merging the international student with local economy and internationalized it. He mentioned that, these is the area that teaching Chinese as second language industries need to address and focus on. Mr Zhang Zhenguo, the deputy president of Tang Chinese Education introduced to the floors his company background and their information technology products, such as Tang Cloud Platform and Tang Smart Teaching System. His mentioned about Tang Chinese Education working very hard with Peking University, Beijing Normal University and other universities on producing various type of online teaching resources. His further elaborated that Tang Chinese Education information products and teaching resources audience has been expended to South Korea, Malaysia, Thailand and other countries, this is not only helps in promoting new model of teaching Chinese language but helps in spreading Chinese culture. SFLEP deputy president Huang Wei mentioned his organization invested large amount in teaching Chinese as foreign language industry, he hoped through the close cooperation with Tang Chinese Education, both online and offline version of "Understanding China" can perfectly integrated to provide high-quality teaching resources and services to clients.
After the opening ceremony, Professor Zhaoyang from Peking University delivered his key note address with the theme "Online Teaching and Learning : Opportunities and Challenges to Traditional Education". Professor Zhao shared Peking University experience on construction of their Massive Open Online Course, the outcomes and their future plans on information teaching. Professor Zhao believes that the internet has given totaly new definition to teacher, teaching materials and teaching method which has subverted traditional educational concepts. He mentioned that the visual teaching of " Understanding China " is more vivid than pure words, it allowing students to learns more intuitively and quickly, and it is more convenient for students, teaches to communicate and exchange of opinion among them. In addition, Professor Zhao Yang emphasized that online education is an inevitable trend in the development of education. He pointed out that compared to European countries, China is at the forefront of Internet education in the world, and we needs to grasp this opportunity.
Professor Cheng Aimin presented a report on "What and How to teach Understanding China". He introduced in detail the construction ideas and syllabus of the "Understanding China" course. The course presented in a series of sections, and implemented "one syllabus, multiple books" (Chinese and foreign languages) concept. Teaching according to student standard, creating online courses platform using internet technology, combined with classroom teaching, building rich teaching materials , open teaching, learning and assessment system with rich resources and various forms.
Wu Di, Supervisor of the Department of Chinese and Culture, Shanghai Foreign Languages ​​Education Institute also made a speech. He fully introduced the editing experience and situation of the content, pictures, layout, paper and other aspects of the printed textbooks of Understanding China,. He added multilingual version of Understanding China is also in the process of preparation.
The seminar mainly focus on the construction and application of the course at the afternoon. Ye Changqing, Ye Muyu, and Wang Meng from Tang Chinese Education, respectively shared the background, current status, development direction, and application of the international education project in the excellent course of Understanding China. Tang Chinese Education Chinese teachers also demonstrated to the audience the teaching and learning process using Chinese International Education Cloud Platform.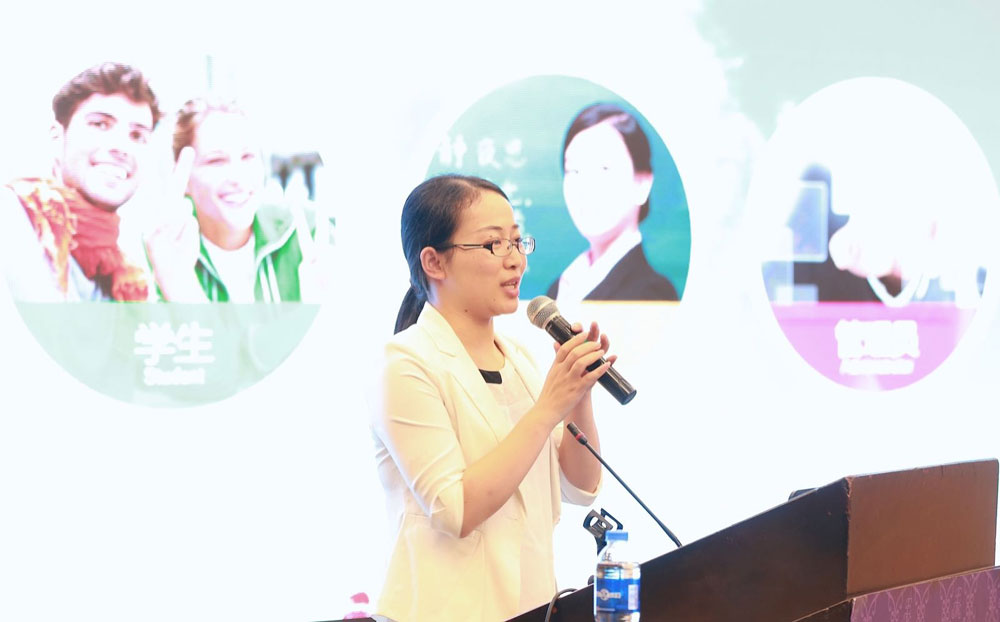 One of the important members from the " Understanding China" team, Ms Yin Xiaojing from International Education College of Tianjin University, shared the teaching experience in her university. She shared in details of the " Micro Lecture, Face-to-Face Teaching, and Micro Lecture" model of teaching and her own summary on the nine aspect of teaching in lecture hall. She suggested to collect details teaching data through the platform and implement the "Teacher Dominant, Student Oriented and Content focus" teaching concept, thereby to understanding comprehensively and accurately understand the students' grasp of knowledge points.
In the Q & A session, the participant voiced their opinions. They affirming the necessity, urgency and practicality of the course, they had a lively discussion on the specific application of " Unserstanding China " and many other new collisions The ideas and methods, each of them had a good harvest, ended the seminar successfully.