Tang International Education Group won the "Asian Education contribution Award"
Tang : 2018-09-29
On September 21-22, 2018, in Chengdu ( Sichuan Province), sponsored by China's Ministry of Education, the Chinese Institute of higher Education, the Sichuan Provincial Department of Education, the Chengdu Municipal people's Government, and the Asian Education Beijing Forum. Also, the Asian Education Forum training Center and the China Vocational Education were organized by the foreign cooperation alliance for the annual meeting of "the 2018 Education Forum for Asia Annual Conference". At this forum annual meeting, Tang International Education Group won the "Asian Education Contribution Award".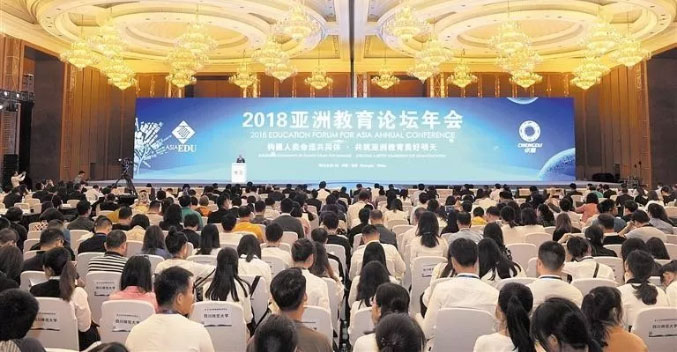 Forum Site
The Asian Education Forum was rated as "the most advanced education exchange platform in the Asia-Pacific region". It has been 15 years since its establishment and development in 2003.The theme of this forum is "Building a Community of Human Destiny and Build a Better Education for Asia Tomorrow". 1500 of experts, scholars and industry representatives from 26 countries and regions which including the United States, the European Union, New Zealand, South Korea, Japan, Singapore, the Philippines, Malaysia, India, Egypt, Pakistan and others were gathered in RongCheng to discuss educational plans.
President Li Jinsong Accepted the Award on Behalf of the Group
After several rounds of selection, Tang International Education Group was awarded the Asian Education contribution Award, which aims to reward institutions that have made significant contributions in Asia's education. Tang International Education Group is the only institution that has won this honor in the field of international educational cooperation. Tang International Education Group (Beijing Tang Chinese Education Technology Co., Ltd.) was established in 2006. Over the past 12 years, Tang has served nearly 200 well-known universities, vocational colleges, educational institutions and industry users. For examples, Malaysian Chinese education's Smart Teaching and Learning, China-Thailand vocational education international cooperation, HSK test (Internet Based) operated by South Korean and other projects have been unanimously recognized at home and abroad.The "Asian Education contribution Award" was presented by Mr. Lee Soo-Sung( former Prime Minister of South Korea), to Mr. Li Jinsong (President of Tang Group).
At this conference, one of the Tang strategic partner schools -- Bangkok Vocational Education Center of the Thai Vocational Education Commission which won the honor of "Top 50 influential Asia-Pacific Vocational Colleges in 2018".
Tang will join hands with others at home and abroad to make more contributions to spread of Chinese language's culture, educational exchanges and cooperation between China and other foreign countries.