Use of "Internet +" Chinese Learning Model Helps UK (MEP) Mandarin Excellence Programme
Tang : 2018-11-28
On the morning of November 26, 2018, Dean Katharine Carruthers (IOE Confucius Institute for Schools, University College London)visited Tang Chinese to discuss cooperation with Tang to support the UK (MEP) Mandarin Excellence Programme.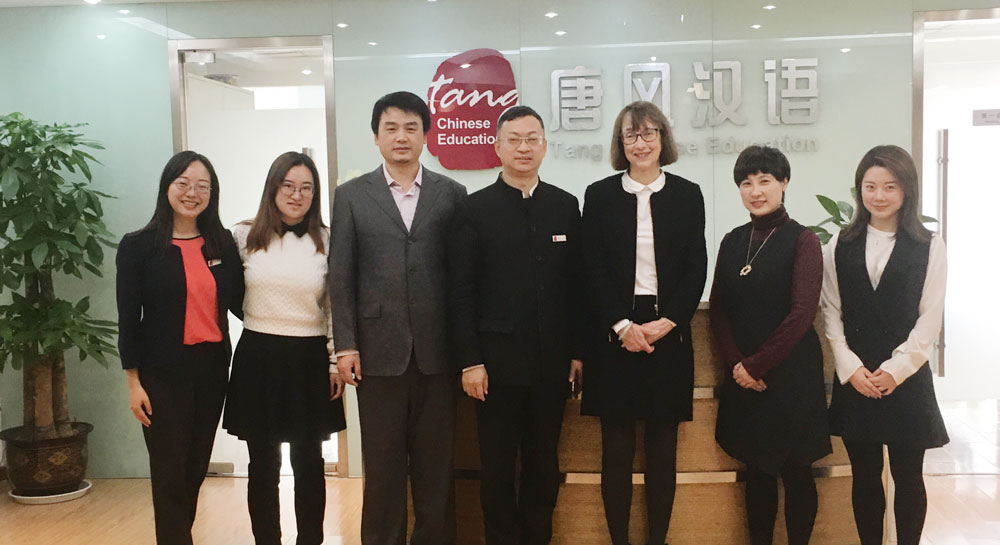 At the seminar, Dr. Gu Ling, (Academic director of the Chinese Language Teaching Products Department of Tang) introduced Tang's zero-based Chinese curriculum to Dean Du. At the same time, he displayed a series of courses in combination with Tang's self-developed cloud platform PC and mobile APP products, and further shared the development of the series of zero-basis Chinese curriculum in Thailand and the application cases in local colleges and universities. Dean Du fully affirmed the localization features and highlights of curriculum content design in the research and development process of Tang Chinese zero-basis curriculum, and put forward suggestions for the development of localization in Britain based on the market situation of English Chinese education and the characteristics of students in MEP Mandarin excellence program.
In the afternoon, Mr. Li Jinsong (President of Tang Chinese) and President Du Kexin had an in-depth exchange with President Zhao Yang in the School of Foreign Language Education of Peking University on the three-party cooperation. The three parties reached a consensus on the cooperation and support of MEP Mandarin language excellence program and signed a cooperation agreement on the spot.
The signing of the tripartite cooperation agreement is the starting point for the integration of MEP Mandarin excellence program and Internet technology. Tang Chinese will cooperate with Peking University's Institute of Chinese Education as a Foreign Language and the Confucius Institute of the Institute of Education at University College London to jointly build a cloud platform for MEP Mandarin excellence program. The three parties complement each other's advantages and innovate in coordination. It will provide better Chinese learning experience for teachers and students of MEP programs in British ,help the landing of the cloud platform for Chinese education in British universities and promote the development of Britain's Chinese education.