The Shanghai Declaration Sounded the Bugle, and China-Thailand Educational Cooperation took Potential to Take Off
Tang : 2019-12-16
In recent years, China and Thailand have made continuous development in the field of international educational cooperation. Recently, the posted of "Opinion Regarding Accomplishing the Work of Opening the New Era's Education to the Outside" and "Joint Press Communique Between the Government of the People's Republic of China and the Government of the Kingdom of Thailand",which have guided the development direction of international educational exchanges between China and Thailand. In Thailand EEC's five-year training program for 475,000 professional workers are a huge demand for professional talents with professional skills. In order to promote cooperation in vocational education between China and Thailand, to train technical personnel for Thailand, and promote two countries' industrial cooperation and economic development. Tang International Education Group has joint with Thailand's educational authorities established a new CCTE model for modern international education. Through the various efforts in the past 18 months, the institutions of the two countries have established 27 CCTE model "internet +" China-Thailand International College and carried out substantial training of students.
In order to summarize the development experience of the CCTE model in China and Thailand, the leaders of these two countries will further implement the instructions of international educational cooperation.From December 12 to 13, 2019, under the guidance of Thailand Ministry of Education's Vocational Education Committee , Thailand the belt and road initiative Foundation and China Education International Exchange Association, the "2019 Sino-Thai Vocational Education Cooperation Development Forum" sponsored by Tang International Education Group and co-sponsored by Shanghai Institute of Electronic Information Technology was solemnly held in Shanghai.

Thailand's Deputy Monk, Master Wang Songde, the leaders of the Vocational Education Committee of Thailand and the presidents of 20 Thai vocational colleges came to Shanghai to have in-depth discussions with the China 40 vocational colleges and universities' leaders and experts.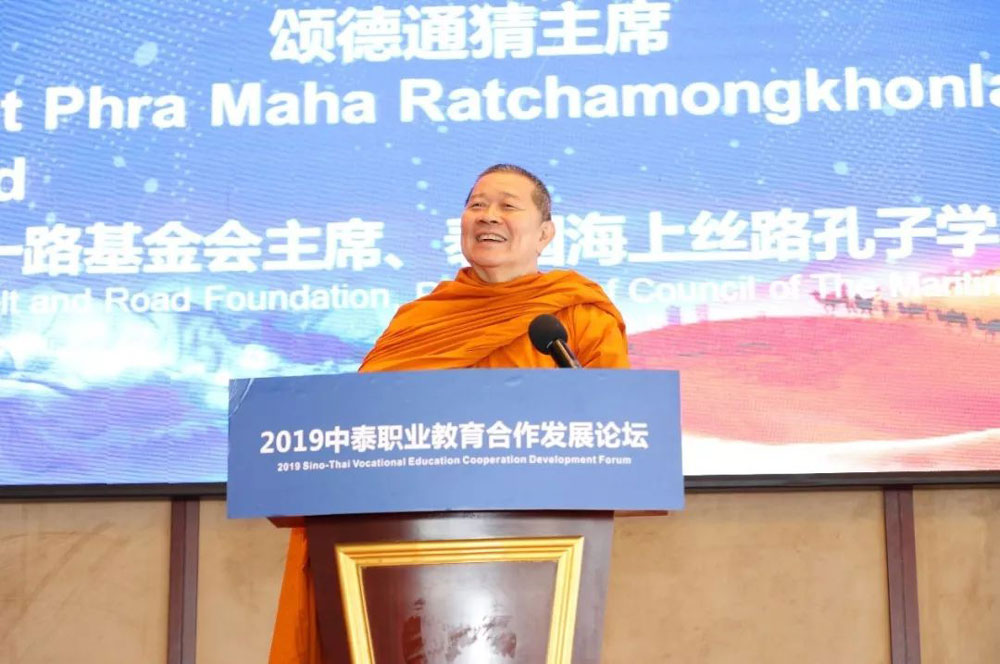 Deputy monk King Songde Tongchai who is the chairman of the Belt and Road Initiative Foundation of Thailand. He expressed satisfaction with the progress of Sino-Thai cooperation in the early stage of modernization of the CCTE model. He thanked Tang for his unremitting efforts over the years. In the next step, he will report the results and plans of the cooperation to the high levels of the two countries, and encourage the participants to continue to work hard to gain wider support.
The Thailand Vocational Education Commission of the Ministry of Education, Ms. Batama, Deputy Secretary General said that : the cooperation between the 12 universities in Bangkok Center and the China vocational colleges has been fruitful, and the pilot project has been extremely successful; they praised Tang's work.Subsequently, the Vocational Education Committee of the Ministry of Education of Thailand will make a comprehensive plan which is based on different subject groups to carry out a more in-depth and comprehensive modern Thailand-China cooperation in running schools throughout Thailand.
The participants conducted in-depth discussions on issues of common concern in Sino-Thai international educational cooperation, and finally unanimously adopted the "Shanghai Declaration on International Cooperation and Development of Sino-Thai Vocational Education." It has formed the general idea of development, that is, to implement the overall requirements for the development of educational cooperation announced by the prime ministers of China and Thailand, and to implement the concept of international education supply-side reform. As the Thailand EEC's starting point, which is actively integrates China and Thailand government officials, education experts, institutions of all levels and types and social institutions to jointly build a talent training system of "common language, technology and application" and establish a "Thailand standard" of CCTE mode, so as to continuously train talents for the economic cooperation between China and Thailand, serve the development of Thailand's national economy and the construction of "the belt and road initiative".
The Shanghai Declaration states that in the future, with the official support of the Ministry of Education of Thailand, China and Thailand colleges and universities will jointly cooperate in setting up cooperative organizations, establishing standards, building Sino-Thai cooperative discipline (professional) groups, cooperating in running schools, building platforms and resources, holding skills competitions, building exemplary comprehensive training centers in Thailand, school-enterprise cooperation, industry-education integration, and establishing mechanisms for academic conferences and annual meetings.
During the conference, the Vocational Education Committee of Thailand's Ministry of Education and Thailand's the belt and road initiative Foundation expressed their sincere thanks to the institutions and individuals that have participated in Sino-Thai cooperation, and presented awards to individuals and units that have made outstanding contributions.
Mr. Guan Mu, former China Ambassador of Thailand, Mr. Jia Yimin, former President of Huaqiao University of China, Jia Haiming, Deputy Director of Hebei Education Department, and Li Jinsong, President of Tang International Education Group, won the Sino-Thai Education Exchange Special contribution Award.
Secretary Tian Mingxin of Hebei Software Vocational Technology College and Secretary Zhang Huiqing of Jinan Engineering Vocational Technology College won the 2019 China-Thailand Vocational Education Cooperation Individual Outstanding Contribution Award.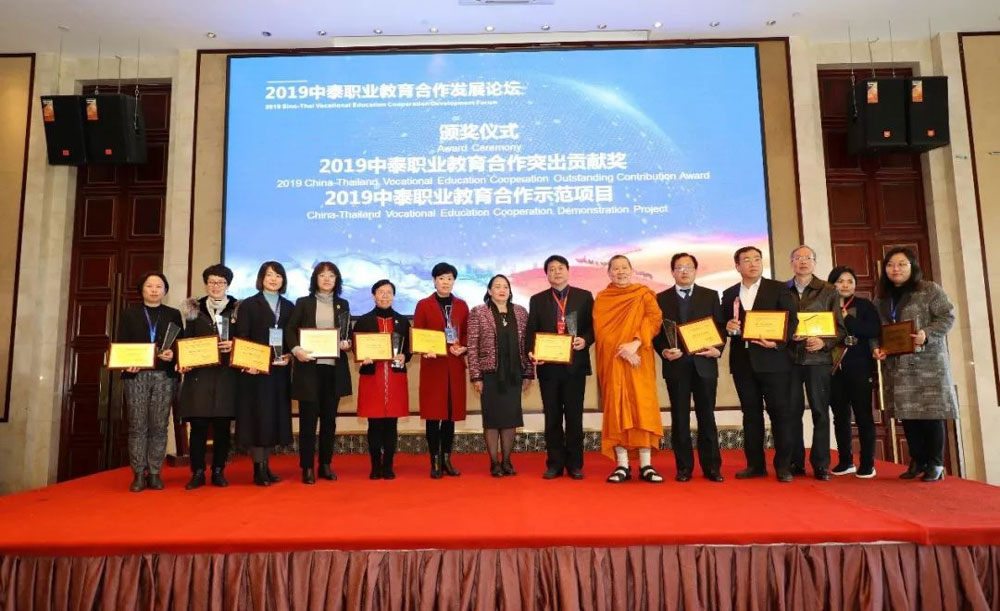 Shanghai Technical Institute of Electronics Information, Hebei Software Institute,Jinan Engineering Vocational Technical College and other 12 vocational colleges won the 2019 Outstanding Contribution Award for Sino-Thai Vocational Education Cooperation, and it was rated as the Sino-Thai Vocational Education Cooperation Demonstration Project.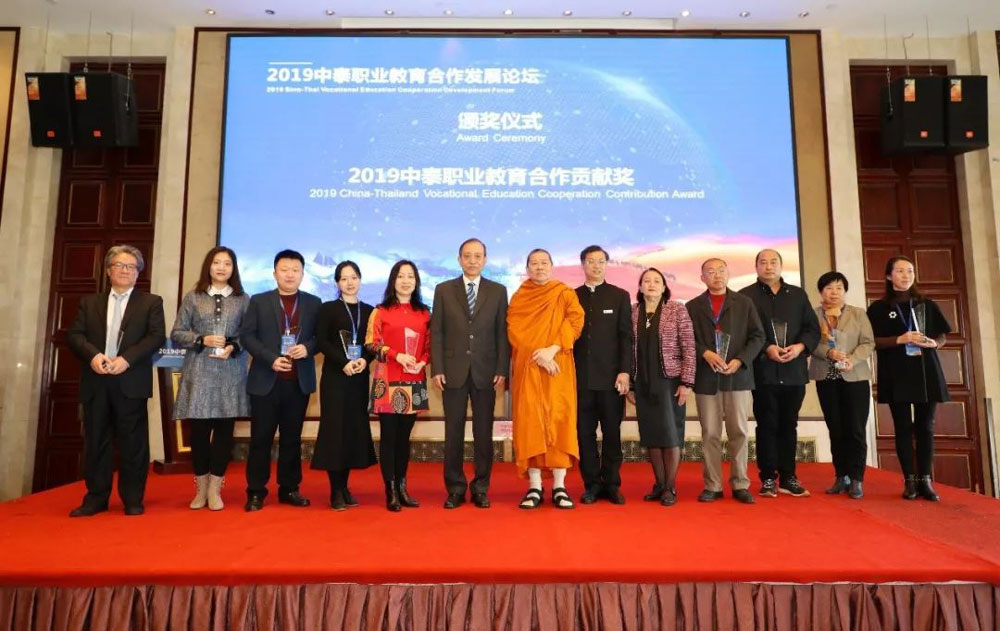 Jiujiang Vocational and Technical College, Liaoning Petrochemical Vocational and Technology, Anhui Vocational and Technical College and other 10 institutions won 2019 Sino-Thai Vocational Education Cooperation Contribution Award.
This forum received strong support from Shanghai Technical Institute of Electronics Information. At the forum, former China ambassador of Thailand, Mr Guan mu, former president of Huaqiao University, and professor Jia Yimin who is the winner of the "Gold Medal of the Crown of Thailand", he delivered keynote reports. Shanghai Technical Institute of Electronics Information, Bangkok Institute of Vocational Education, Eastern Thailand Institute of Vocational Education, Jinan Engineering Vocational Technical College, Fujian Polytechnic of Information Technology , Leshan vocational and technical college, Hebei College of Industry and Technology, Xi' an railway vocational and technical Institute etc. also shared their excellent experiences in the cooperation between China and Thailand.
Today, with the stable political relations and close economic exchanges between China and Thailand, especially vocational education between the two countries have ushered in the best opportunity period.Under the guidance of the Shanghai Declaration, the China and Thailand will form a joint force at different levels such as the government, colleges and universities, and industrial enterprises which will train Thailand's vocational talents and help China's advanced vocational education to go aboard. The results of this international cooperation between China and Thailand have become a model of "the belt and road initiative" education cooperation and its will open a new chapter in Sino-Thai friendship.