The Sino-Thai International Education Cooperation Promotion Conference was successfully held in the Ministry of Education of Thailand
Tang : 2020-06-24
On June 19, 2020, the Ministry of Education of Thailand and Tang International Education Group jointly held a Sino-Thai International Education Cooperation Promotion Conference. More than 80 leaders from the Ministry of Education of Thailand, Tang International Education Group, vocational education centers which in Bangkok, East and North part, Central District 1, Central District 3, Central District 4 and Southern District and their subordinate colleges attended this conference.
The chairman of the meeting, Mr. Nanyu Songthana Phita, thanked Tang International Education Group for opening the channel for the development of international education in Thailand, and thanked China colleges and universities for their strong support of Chinese and cultural courses during the epidemic in Thailand. Mr. Nanyu said that China and Thailand are separated by a strip of water and have been friendly for generations. Thai students should seize this good opportunities to learn China's advanced technology, strengthen the friendly relationship between China and Thailand, and apply what they have learned to truly contribute to Thailand.
。
It is hoped that Thai colleges and students will attach importance to learning Chinese and have a good foundation of Chinese before going to China. Mr. Nan Yu pointed out that some of the colleges have established a solid cooperative relations with China colleges. He also congratulated the colleges on their achievements. He hoped that the colleges and universities would strengthen their contact with the cooperative colleges during the epidemic period, organize students to do a good work in online learning, and ensure that after the epidemic, students can further study in China.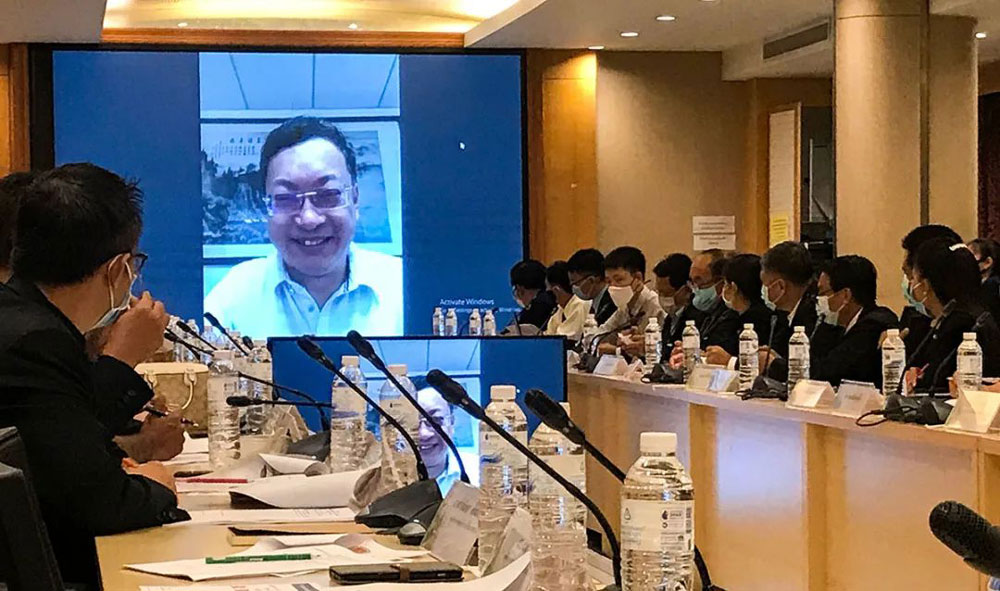 Mr. Li Jinsong, who is President of Tang International Education Group was participated this conference through online, he informed the guests of the "Opinions of the Ministry of Education of China and other eight departments on accelerating and expanding the opening up of education in the new era" which just released on June 18. He thanked the Ministry of Education of Thailand who support for Sino-Thai education cooperation during the epidemic, and encourage more Thai colleges to adopt the Tang CCTE which is Sino-Thai dual-degree cooperation model to introduce more outstanding China undergraduate and vocational college courses, and send Thai students to China to learn advanced technology, and strive to train more high-quality comprehensive international talents for Thailand 4.0. After the epidemic, will have more Thai students are welcome study in China.
The director of Bangkok Vocational Education Center Ms. Chongpunu Bobangsong has introduced the achievements of Sino-Thai cooperation in 13 subordinate colleges and universities. Students through online learning of "Tang Chinese Course" to prepare studying in China. Students who with excellent grades can get scholarships from China colleges, which is greatly reduces the cost burden for students to study abroad.
After returning from China, the students' feedback on studying and living in China is very good, especially the students' Chinese proficiency has been greatly improved in just one semester. Currently, due to affected by the epidemic, this year's students may not be able to go to China for the second semester. However, in Thailand, we will cooperate with Tang and China colleges to organize students to study online professional courses. After the epidemic, we will send a new batch of students to study in China. She was special thanked to Tang International Education Group and China colleges for their support to help Thai students.
The representatives of other Thai colleges and universities also introduced the development and results of the CCTE Sino-Thai cooperative education project. During the conference, they also further implemented the each center's cooperation direction and discussed the work plan and key points of the next cooperation.
According to the Thai Ministry of Education of work deployment on July 1st, Tang will cooperate with the Thai Ministry of Education to carry out the international education cloud platform and the "Tang Chinese Course" classroom teaching application training for each center under subordinate colleges, to promote the training of local Chinese teachers and Chinese learning, carry out online distance teaching for students of Sino-Thai international colleges. Also, it's gradually expand the establishment of CCTE Sino-Thai dual-degree cooperative education relationship between Thai colleges and China colleges to speed up educational exchanges and joint personnel training between these two countries.